March 2017 – Villa Folly Update
Well it is some considerable time since we left a blog – but with the season rapidly approaching, here is an update on the villa.
Firstly, the improvements we have made in the last 18 months – the outside of the villa has been redecorated, as has the whole of the inside. New leather sofas have been bought for the lounge and new curtains for both the lounge and the dining room.
We are particularly pleased with the remodelling of the pool and pool patio – we now have much more useable sun bathing space whilst still enjoying the pool to cool off in and play the usual holiday ball games in! Little ones love the shape of the steps and our granddaughter, now aged 7 years, enjoys many hours sitting on them, half immersed in the water with plastic pots and tea cups to keep us all hydrated with imaginary tea!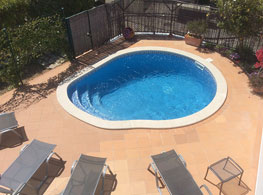 The old TV has gone and is now replaced by an internet TV offering the usual freeview channels so you can continue to keep abreast of all the soaps and reality programmes whilst away if you feel so inclined!
For those guests who have use of the air con/heating we have installed new air con units to the master bedroom and lounge – more powerful and efficient (and definitely quieter!) – but take care to ensure you are using the correct controls.
This year (2017), we have had a boom in our bookings – most weeks being booked before the end of 2016 as opposed to this happening in the first three months of the year – sadly though, our own visits are somewhat curtailed by this so for this year, we are relying even more on your feedback to help us continue to make upgrades to ensure great holidays are had by all our guests.
That's all for the time being – Keith and I are out in March so there may be more to report on then – the Praca is undergoing some big changes ready for Easter onwards so watch this space…..!